Salamander in Her Pocket
Despite a rotten night of restless sleep, I met my friend for our morning walk at 5:30 a.m. I kind of wish it were still pitch black at that hour of the morning so no one could see how rumpled and bleary I am that early in the morning. How does my friend appear so fresh and with such smooth hair?
A drizzle fell on us, the exact kind of rain which characterizes our region and causes transplanted people from sunny states to curse and then forsake my Evergreen State. We chatted as we hurried along. I looked at the ground to avoid stepping on slugs and to keep the raindrops from falling into my eyes.
Right in the road, I spotted a lizard-like creature. "Look!" I said. She leaned over and peered at it, then said, "Cool!" and picked it up by its tail.
Not Actual Salamander

She cupped the salamander in her hand said, "You can give it to [YoungestBoy]." She knows how much he loves animals. Then she zipped it into her pocket.
"I hope you don't forget that thing in there."
And on we walked, stepping carefully around the baby slugs which are growing larger each day.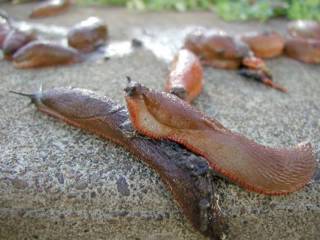 Slimy Example of Full-Grown Slugs

I worried in silence about that salamander. Would she expect me to transfer it to my pocket? What do salamanders eat? Could it live in a jar temporarily?
When we approached her house and my car, I remembered the salamander.
She did not and I didn't say a word.
Call me squeamish, but I just didn't want a slimy pocket pet, even for a moment. I'm not a very good Boy-Mom and clearly, I'm an even worse friend.