He's Very Very Sorry
Overnight, I turned into the Wicked Witch of the West Coast. Babygirl's typical whines grated on my sensitive nerves. YoungestBoy's desire to built a fort from his comforter before school provoked an eye roll from me. The twins' typical non-stop, nondescript noise caused me to clench my jaw. And I skipped my walk because I'd been awakened at 2:30 a.m. by a sad Babygirl standing in her crib, where she has ready access to the light switch which explains why the light shone in my squinted eyes at that grim hour. I only rocked her for five minutes, but when I returned to my bed, I couldn't sleep and so decided at 3:30 a.m. that I would not, could not get up to walk at 5:20 a.m.
Next time, I will override that decision. No decision made at 3:30 a.m. is a wise decision.
So, I was crabby today. The day progressed fairly well, though, until this afternoon when TwinBoyA sassed me one too many times. He'd been yelling at his brothers and friends to fix the tent-city in the dining room and I finally rebuked him. He told me to "BE QUIET!" I did not take kindly to this back-sass (as my boys used to call it) and gave a finger-waving, glaring lecture which included the threat of an early bedtime and no trip to Hollywood Video (source of rented GameCube games) for a "very, very long time!"
He kept interrupting me. Somehow, he's never noticed that when he interrupts, I just rewind the lecture and start back at the beginning. This enrages him and enrages me and soon we are locked in an epic struggle for power. Just like when he was two, only now he has a bigger vocabulary. When I left the room, he threw the pillows from the couch and attempted to dig himself deep into the furniture. His cries were loud and dramatic.
I left the room to tend to CuteBaby and a while later, when I rounded a corner, we nearly collided. He said to me, "Mom, I hope you end up in hell."
I said, "You hope I
end up in hell
? Really?" I could not have been more surprised. Where does he get these things? Not from anyone in this household, nor from any media as we are selective. I think he actually thought of the worst possible thing he could say to me and then said it, thinking it was an original thought. His ingenuity impressed one tiny part of me and floored the rest of me. He said, "Yes, and I HATE YOU!" So there.
I said, "Oh. So, you hope I END UP IN HELL and you hate me? Well, very nice." I did the Bill Clinton pursed-lips thing and said, "Okay, then. You hope I end . . . up . . . in . . . hell . . . and you hate me. Thanks. Great."
Not long after that, he approached me and said, "Mom, I'm sorry," and I said, "Well, great, but I don't think I will ever forget this day when you told me to go to hell." And he crawled under the tent and bawled.
As you can imagine, I was perturbed and not quite ready to let this go. A better mom might have embraced him and forgiven him immediately and sometimes I do wonder why God didn't give this child to A Better Mom, wherever she is, but I sighed and walked away again.
Then later, much later, he hand-delivered this note: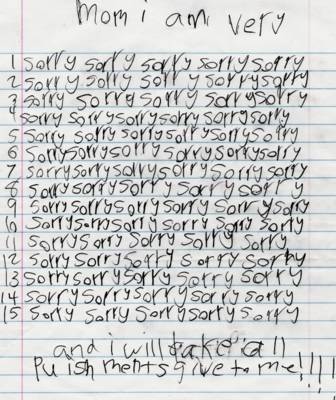 We had a rational talk about the disrespect of his words. I accepted his apology and formally forgave him.
I wonder what I did to deserve a mouthy, snotty, sassy child like TwinBoyA. He's been this way since before he could talk or walk. He's a fit-thrower, an impulsive child who has a short fuse and an Elvis sneer. I might blame myself for his behavior and attitude, yet I have three other children who are vastly different. I might blame genetics, since he has no genetic link to me or his dad, but what point is there in blame? TwinBoyA is who he is and it's my job to mold his resisting, harder-then-stiff-clay self into a decent human being. On bad days, I figure he'll be an inmate somewhere, someday. On good days, I know that he'll be just fine, even though raising him might just kill me.
There is really nothing like having kids to bring you face to face with your own flawed self. I'm not really enjoying that close-up view today.